It started on a craZZZy note...
At 3 A.M., the letter Z came to me and demanded to have his story told. I told him to go away. He wouldn't! So I listened. Then I wrote Z's story. A week later, I began a reading tour of Z's lament to children of all ages. They listened. They empathized. They imagined. And, many proclaimed "I want to illustrate Z's story!" Children illustrate a book?... Brilliant!
We quickly prepared an illustration contest in conjunction with the awesome BookMates of Southern NJ organization. A dozen assemblies later the adorably illustrated laZy, craZy & amaZing: The Z-quillustration became available on Amazon.com

Enthralled by the entire process and being more craZy than laZy, I've continued(since that fateful morning in 2012) tapping out tales for kids WITH KIDS. With the help and inspiration of several hundred enthusiastic young story dreamer-uppers, editors, illustrators and listeners, we now have a slew of books in print. Curious?... Browse below and click around!
laZy, craZy & amaZing...
laZy, craZy and amaZing the ZequIllustration is amaZingly illustrated by elementary school kids from South Jersey. Their imaginative renderings reinforce the message be happy with who you are to kids of ALL AGES. Z is available internationally in all formats including Kindle and paperback on Amazon.
For more information, watch the teacher testimonial below.
THE CURIOUS RISE OF DESTINEE SNEARTS
Fun-loving but fragile, fourth grader Deztinee Snearts dares to oppose Damian Witherspoon Prezby in a race for school president. She immediately shoots to the top of Prez's "To Destroy List." Fourth grade becomes miserable for Dezti and caustically chaotic for her classmates under the "rule of President Prezby." Enter a wise librarian, an all-you-can-eat buffet of books to feed her curiosity, and a mysterious muse that connects Dezti to the Universe. Thus begins her CURIOUS RISE.

This book was dreamed up with Parkway Elementary's imaginative 4th Grade Class of 2018. It aspires to showcase the values of civility, humility and TRUTH that were embodied in Mrs. Harriet Stearns, Parkway Elementary's first librarian. Harriet had a gift for reading to children and getting parent volunteers involved in the school library and reading community. Check out Zapety Zopity Zu - Parkway Style, a companion vocabulary game featuring the voices of many Parkway vocabularians.
To purchase the paperback or Kindle version of THE CURIOUS RISE OF DEZTINEE SNEARTS, please visit... Amazon
UNITED WE RISE!
UNITED WE RISE! features 4 books in one, with the universal theme of WELCOMING a new student into the school community or family. In addition to dreaming up the plots and characters, more than 40 students gave up multiple lunch hours and recesses to participate in giving voice to an audio version. That version was available online from May 2014 thru May 26, 2015.
For more information about the fabulous 4 stories, visit Amazon
MISTER FANCY DANCER
MISTER FANCY DANCER was dreamed up with more than 30 5th graders at Whittier Family School in Camden, NJ. Many of the students are featured in the illustrations. This chapter book is available as an interactive book for iPad, and as an interactive book and app on Google Play and the Amazon App Store. The interactive versions include narration by Hochman and more than a dozen Whittier students and a 30+ challenge quiz. Reading level 5th grade and UP! You can get a sense of the student engagement by checking out "The Making of Mister Fancy Dancer" video
For book details, See at Amazon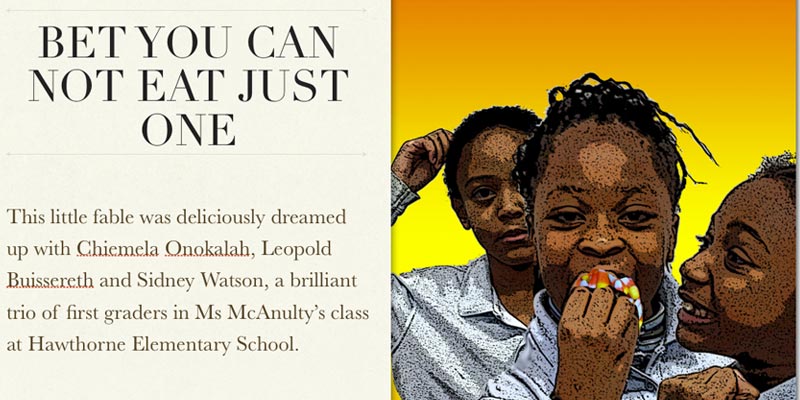 BET YOU CAN NOT EAT JUST ONE
Ever have your stomach talk to you? Boss you around? How 'bout talk to and even threaten your friends? Yes, clearly Grace's stomach is out of control. How she gets control back is a story about true friendship. This story was dreamed up with three imaginative and adorable first graders - Chiemela, Leopold and Sidney. These standouts from Ms McAnulty's 2013-2014 class joined me in presenting part of the book in a reading before more than 200 adult BookMates, teachers, principals, even the mayor of Camden. For OUR NARRATED version of the book CLICK HERE to watch on YOUTUBE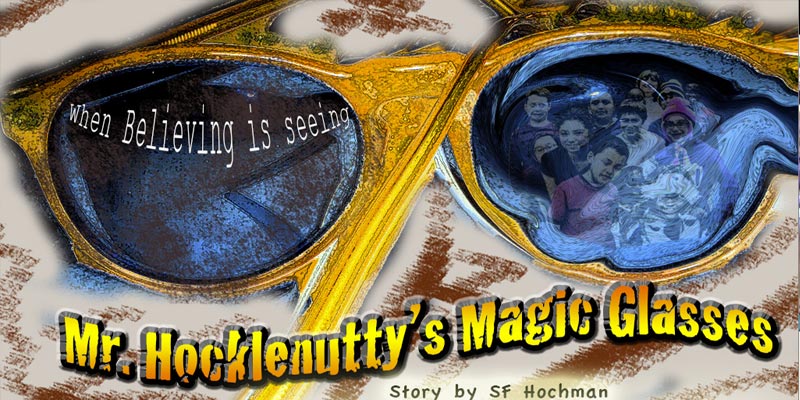 MR. HOCKLENUTTY'S MAGIC GLASSES
This story gently bridges the generation gap (between kind of old and kind of young). It was dreamed up with first graders in Willingboro, NJ and imaginatively illustrated with 4th graders in Pennsauken, NJ. (Reading level 1st and 2nd grade.)
Or, see it at Amazon
The air turns toxic, animals develop the ability to speak and problem solve. An uncoventional self-anointed hero arises. This former bullying-victim suddenly gains leverage over his previous tormentors. How does he handle it? How do they handle it?... Find out at Amazon
This book winds together 4 heartfelt stories rich in human values that reinforce the importance of fairness, social justice, hope and faith. It was soulfully dreamed up with Politz Day School and Kellman Brown Academy second through fourth graders. What came from their hearts will touch the hearts of people of all ages.
Find it on Amazon.
If you have questions, comments, suggestions or book requests, I'm eager to hear from you. If you like the books and/or the concept of producing engaging books for kids WITH KIDS, create some buzz.
If you'd like to arrange a reading or assembly at an educational facility or library near you or if you know of a class or school eager to dream up a new book with me, please email me.
Hope to
you soon.
Coming soon: evocative essays from the heart and performance poetry themed around social justice and improving the human condition... uh, yah, more for adults than kids.